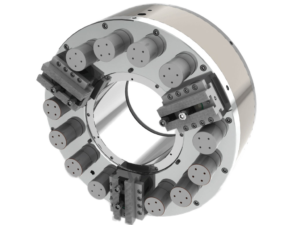 Ultra-grip International Spring Pipe Chucks are heavy-duty large diameter through hole chucks with spring toggle clamping and pneumatic release, primarily used for turning threads on straight, bent, and/or upset pipe for the oil industry.

Basic Standard Style Spring Pipe Chucks
Three Jaw Centralizing Spring Pipe Chucks
Standard Jaw Travel
Extended Jaw Travel
Heavy Duty (Additional Grip Force)
Three Jaw Compensating Spring Pipe Chucks
Six Jaw Sequencing Spring Pipe Chucks
Features
Actuation Style – Ball Joint Toggle Style
Actuation Method – Spring Clamp and Pneumatic Release.
Jaw Travel – Standard Travel is 25.0mm (1.00") per Jaw or Extended Travel is 38.6mm (1.52") per Jaw
Jaw Mount Serrations – Adjustable Angular Key (Optional 3/32" x 90° or 1.5mm x 60° serrations).
Advantages
Fast cycle time for maximum productivity.
Spring clamp/pneumatic release provides the lowest maintenance, most dependable and safest chucking on the market today.
Clamping force is completely adjustable to minimize distortion, providing secure clamping for maximum stock removal or light gripping for thin wall pipe.
Sealed slides significantly reduce costly maintenance and resulting down time, increasing machine time, productivity and profits.
Heavy duty low maintenance costs and long service life resulting in increased profitability.
Common components across various chuck sizes allow for minimal inventory requirements.
---
Technical Data: