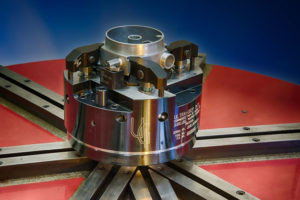 Used for non-cylindrical chucking or to assist a primary cylindrical chucking mechanism for turning, milling, and grinding. Part location is determined by items such as guides, orientation pins, interchangeable pin plates, and primary chucking mechanisms such as a collet chuck. Ultra-Grip Int. designs manual and power swing clamp Face Clamping Chuck to suit our customers' part and machining requirements.
Standard Features:
Direct downward pressure provides positive pull-down against part stops.
Sealed high travel rotating clamp arms.
Actuation: pneumatic, drawbar, or spring.
Part centered by a collet, guides, pin plates, orientation pins
Distortion free location of a centered thin wall parts.
Interchangeable face clamps and part stops
Special Options Features:
Air sensing to provide positive part location against part stops.
Bevel gear pitch line location.
Quick-change couplings for pitch line gear plates.
Work support for secondary locating and/or clamping surfaces.