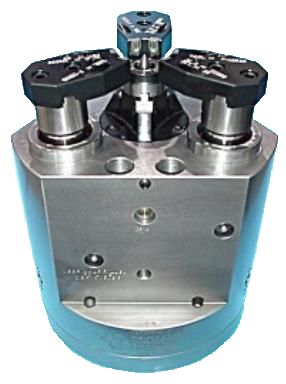 Chuck allows for complete machining of shaft between centers in only one set-up, improving part concentricity and endwise location. Work piece is clamped between centers and driven by the face driver to qualify clamping diameter. Chuck jaws are extended to grip work piece providing additional gripping force for rough machining operation. Chuck jaws are retracted and work piece is driven by face driver for finish machining operation. Chuck can be provided with either a fixed center with power operated face driver or spring loaded center with fixed face driver.
Standard Features:
Compensating Chuck – Chuck design enables jaws to grip work piece independent of chuck center.
Accuracy – Guaranteed repeatability within .001″ TIR.
Higher Speeds – Machining speeds up to 4,500 rpm depending on chuck size.
Positive End Driving – Face driving pins compensate to an out-of-square part end face ensuring equal distribution of driving force.
Supported Pivot Point – Extend or retract jaws while rotating, jaw arms remain supported while extended minimizing centrifugal jaw force loss.
Ball Joint Construction – Power mechanism operates within a sealed unit of lubricant.
Sealed Design – Eliminates costly maintenance and down time, increase productivity and profits.
Complete Workholding Package – Ultra-Grip can provide cylinder assembly, spindle adapter, drawbar and drawtube.
Technical Specifications
Standard sizes up to 15" (381mm) in diameter. Larger sizes available upon request.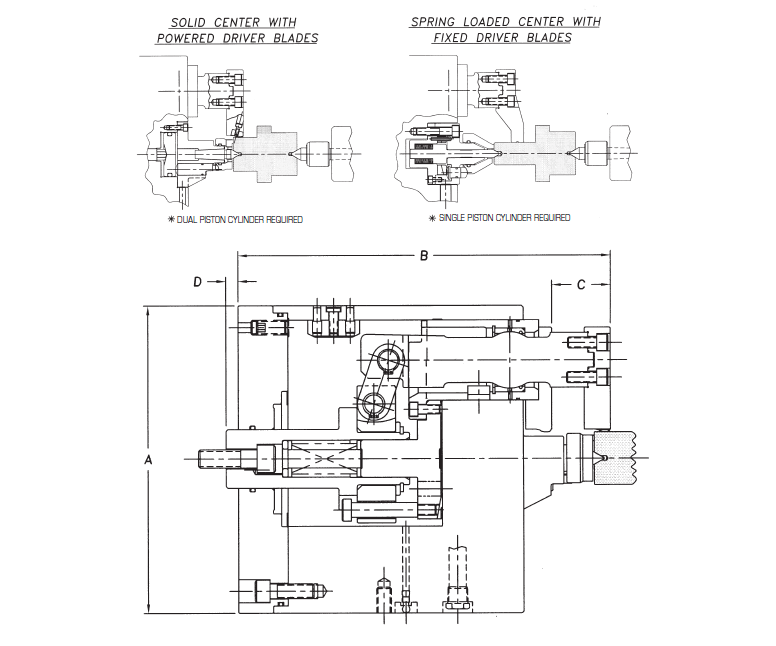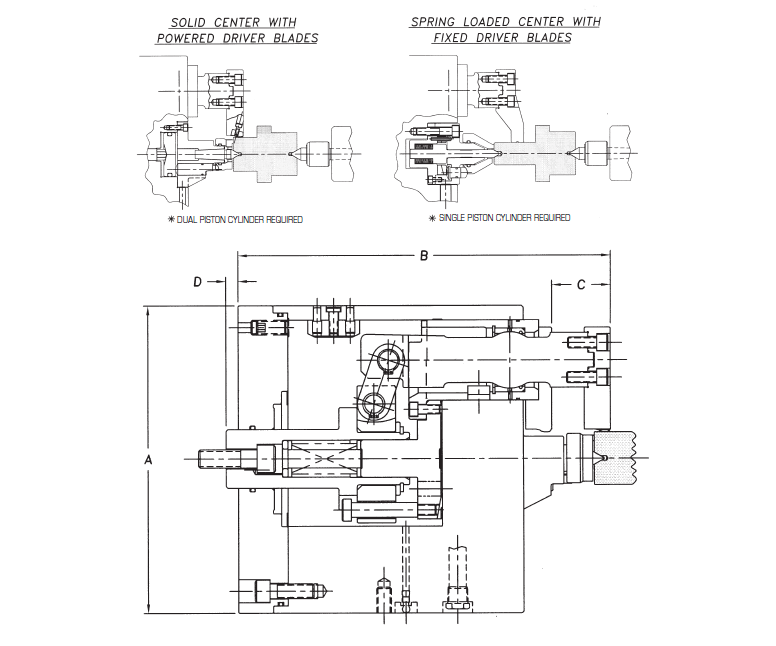 | | A | B | C | D | TOTAL JAW OPENING ON DIA. | MAXIMUM DRAWBAR PULL (FEET) | PART DIAMETER RANGE |
| --- | --- | --- | --- | --- | --- | --- | --- |
| RDC-8000 | 8.25 | 10.15 | 1.50 | 1.94 | 0.2 | 6000 | .62-3.25 |
| RDC-10000 | 10.25 | 12.78 | 2.00 | 2.47 | 0.25 | 8000 | 2.00-6.00 |
| RDC-12000 | 12.25 | 12.78 | 2.00 | 2.47 | 0.25 | 8000 | 2.00-6.00 |
| RDC-15000 | 15 | 12.89 | 2,00 | 2.47 | 0.25 | 12500 | 4.00-7.50 |